If you have never been to Santorini, you don't know what you are missing. This Greek Island of the Cyclades, also known as Thira, is a picture perfect setting for its awe-inspiring beauty, white stone-wall buildings and shiny blue domes. The fishhook shaped Santorini, consists of the main area of Fira in the center, with the popular Oia on the north-western tip of the island.
The only way to get to Santorini is by sea. From the dock, you can either ride the cable cars up to the top of the island, or either ride a donkey or carpool with them. In any case, the views as you ascend to the top are nothing short of breath-taking. The Aegean Sea shimmers a thousand shades of green and blue in the bright sun and the backdrop of the Therasia make every glance toward the sea a memorable one.
Fira, the main part of Santorini, has cafes, restaurants and boutique shops lining the narrow stone streets. Tourists flock to Fira in droves in summer so it is crowded. However, walking along the stone deco streets is a fun way to explore the narrow pathways and to admire the white archways of small buildings. Yes Café, in the heart of Fira, serves great gelato and bottled drinks at reasonable prices.
From Fira, a bus runs north to Oia. The drive is a 20-min episode of oohs and aahs as the bus goes around narrow bends, each bend exposing a new post card image. If you thought your walk up to Fira was beautiful, there are no words to describe the sites in Oia.
Oia is a small town, with chalk white stone wall buildings, blue domes and white stone steps that blend perfectly with the buildings. The architectural focus is on arches, curves and minarettes.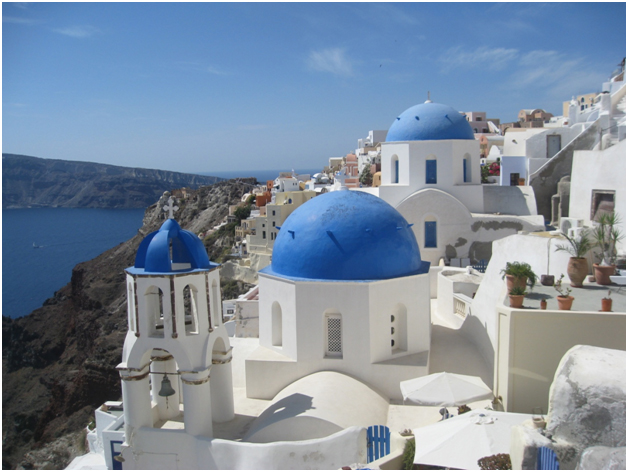 Traditional dining establishments serve excellent baked feta, yogurt with cucumber (Tzaziki), and excellent lamb. For dessert, while Baklava is the more famous of Greek desserts, I recommend yogurt with honey and nuts. Try an establishment called Scala in Oia, which I enjoyed tremendously.
Santorini is also known for its wines, particularly Nykteri and Boutari wines. If you like wine, you may want to consider visiting the wineries in Santorini.
Finally, there is a lot more to do in Santorini than what I have listed here. For instance, Santorini boasts some of the most beautiful beaches anywhere. There is the famous black sand beach called Kamari beach. There is also Akrotiri, which is an excavation site associated with the ancient Minoan civilization.
Without a doubt, Santorini is one of my favorite places in the world. If you ever get a chance to go there, grab it with both hands!